President
Jane Ogg
Vice President
Paul Cope
Secretary
Michael Oginski
Treasurer
Robert Ogg
Board of Directors
Frank Valdes
Kathy Locarno
Allene Sirott-Cope
Mission
The club urges all members to accept the AKC breed standard for Old English Sheepdogs as the only standard of excellence by which our dogs shall be judged. The N.E.O.E.S.C. continues to promote the OES by educating all those with an interest in the breed, and encourages sportsman like competition at all shows and matches.
The New England Old English Sheepdog Club publishes a newsletter entitled "The Bobtail Courier" which contains information on club activities, articles on health and care, show results, and information on coming events (such as seminars, obedience trials and shows).
The N.E.O.E.S.C. continues to offer something to everyone with an interest in the breed. Club membership affords the opportunity to meet other breed enthusiasts, and somewhere to seek an answer to your questions.
Copyright © 2006-2007 NEOESC All rights reserved.
No part of this site may be reproduced without written permission from the club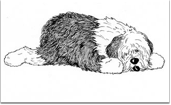 Committee Chairs
AKC Delegate
Jane Ogg
Annual Dinner
Frank Valdes
Michael Oginski
Hospitality
Michael Oginski
Judge Selection
Jane Ogg
Paul Cope
Tom Schulte
Merchandise
Kathy Locarno
Specialty Chair
Jane Ogg
Match
Debi Beyers - Confirmation
Trish Libby - Performance/Games
Courier Editor
Debi Beyers
AKC Legislative Liason
Frank Valdes
Breed Referral
Jane Ogg
Public Education
Trish Libby
Web Master
Tom Schulte